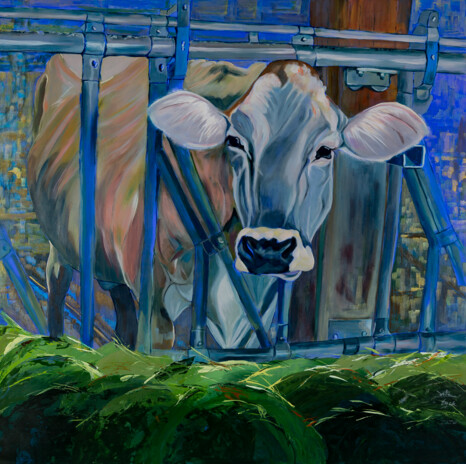 #1
'Portrait of Ronja'
'Portrait der Ronja'
Doepfer und Eyck, 2020
Ronja is a Bavarian Brown Cattle cow in her 5th lactation before she calved in March 2020 (starting her 6th lactation) and by spring of 2021, she is pregnant again. She is the last brown cow among 36 Fleckvieh cows in a robotic milking barn with access to pasture. No mastitis or digital dermatitis ever for Ronja ... she is a special, beautiful cow. The summer sun has lightened her coat and head markings to a gentle ochre and friendly gray by early fall when the portrait was painted.
The Portrait of Ronja is how it all began with the 'may you be well' Project, that I started painting in January 2020 to show that cows can do very well in human care. Panel 1 of 8 has watercolor and acrylics on a 1.20 m x 1.20 m birchwood panel, a co-production together with Ineke Eyck. The royal blue background color is a mix of acrylics and watercolor ground allowing to mix watercolors and acrylics throughout the painting process. Imagine that: glittery watercolors are all over the background showing this mature cow in the barn at the feedbunk where light plays into shadows. We buried words underneath the paint, good wishes for a future of 'may you be well' in four languages. What did we know in January 2020 that a pandemic would hit ... it did.
By the way only Leonhard and I know about the tiny error in the painting, but we will not tell anyone ...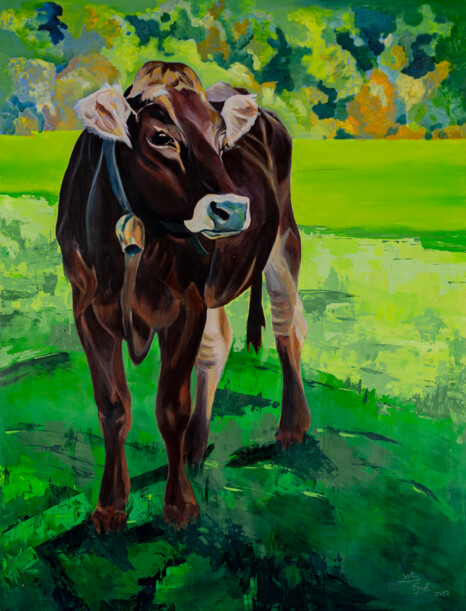 BV #1
'…among friends…'
'…unter Freunden…'
Doepfer und Eyck, 2020
Panel 2 of 8, 1.20 m x 1.60 m birchwood panel with acrylic and watercolor paints, shows a youngstock heifer of the Bavarian Brown Cattle Breed looking at other herdsmates on pasture. She is curious, calm and intrigued by something. We watched her interact playfully with others. Please note that she has the cutest ears, most gentle eyes, and a deep brown fur coat. She simply needed to be portrayed. This painting is a collaboration together with Ineke Eyck who created the dynamic, vibrant foreground of the painting.
Thank you, Ineke!
May you be well!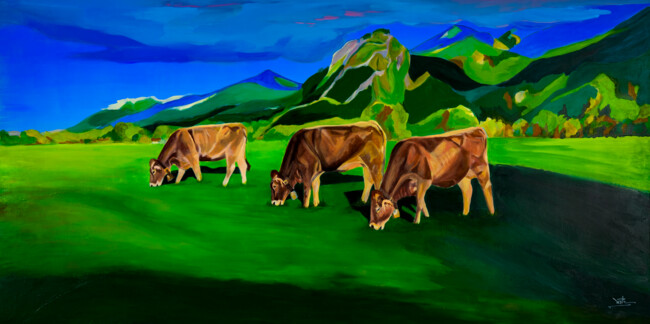 BV #2
'…moving forward…'
'…weitergehen…'
Doepfer, 2020
Panel 3 of 8, 2.0 m x 1.0 m birchwood panel with acrylics, watercolors and water mixable oil paints. This is the 'Bavarian Brown Cattle Breed' side of the 'may you be well' Project. It consists of 3 panels.
This panel shows youngstock of Bavarian Brown Cattle on their pasture in Schongau, Germany, on a golden October afternoon.
These animals are playful and doing well in their social environment. It is a joy to see them together.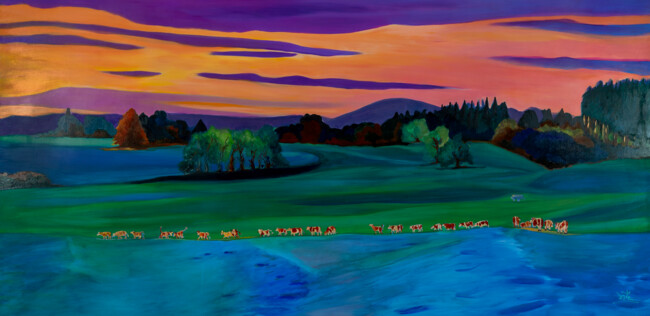 FV #1 pink
'…marching at dawn…'
'…wandern am Morgen…'
Doepfer, 2020
Panel 4 of 8 from the 'may you be well' Project shows dairy cows marching towards their pasture at dawn. Milking is done, cows are walking, playing, doing their thing. And the pinks and purples of the sky over the Alps are beautiful! The miniature Fleckvieh cow figures are cartoon-like for when children look at them. The panel is made of 2.0 m x 1.0 m birchwood with the lower 2/3 in watercolors and the upper 1/3 in acrylics. Far trees are painted using water mixable oil paints. The mini cows were drawn by hand using pencil and watercolor, transferred to the wooden panel, and finished with water mixable oil paints. I know, the pinks are strong, but the skies at dawn seem unreal from being pink and beautiful!
A panel like this one is never finished; I could go on and add details for days and weeks ...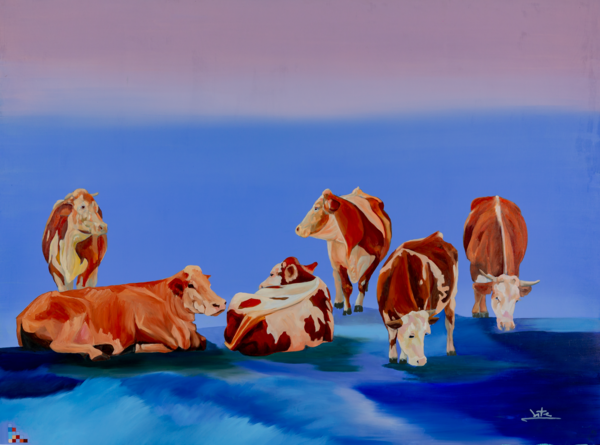 FV #2
'…settling in…'
'…sich niederlassen fuer den Tag…'
Doepfer, 2020
This is panel 5 of 8 with water mixable oil and acrylic paints on a 1.60 m x 1.20 m birchwood panel. In a nutshell, this painting shows how a social network exists between guard cows, grazing and resting cows together with young cows protected in the middle of the herd.
Dr. C. Kroeger took the photographs used as templates for the two Fleckvieh cows looking at each other.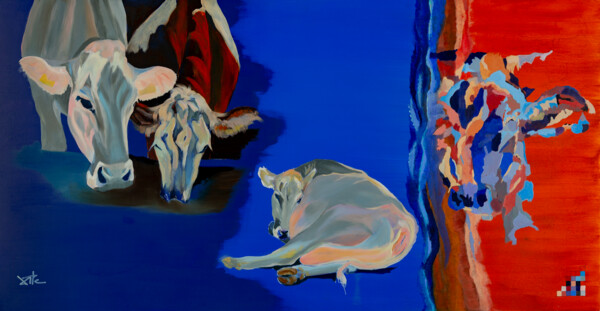 KI #6
'…Ronja's future…'
'…Ronja's Zukunft…'
Doepfer, 2020
Panel 6 of 8 and the last of the wooden panels for the 'may you be well' project that I painted in Uffing/Staffelsee to show that cows can do very well in human care. '…Ronja's future…' is 1.20 m x 0.60 m birchwood panel with water mixable oil paints, acrylics and watercolors. This painting was a spontaneous addition to the project, showing how artificial intelligence and data are influencing our view and management of cattle that are doing very well, no matter what. While the cow named Ronja is feeding or resting together with her herds mates in the barn, the righthand side image of her has been generated using 'style transfer learning'. That means: I took a picture of Ronja's head as the 'contents' and the 'style' from another of my paintings called 'red cow' and fused them using the computer and software called R. The resulting image served as template for the colorful cow that I painted on the bright red background. A lot of color mixing went into this painting process.
Did you know that cows curl up and nap? I wanted to capture this peaceful moment in this painting. This is Ronja resting in the barn one sunny afternoon. Cows actually do that by curling up like this and in many other ways too.
The part of the painting inspired by 'Neural Style Transfer Learning' applies a technique used to fuse the contents of one picture with the style of another. I did that myself using artificial intelligence and then re-painted the resulting picture....I particularly like the abstracted vibrancy of the resulting painting. The color swatch squares in the lower right hand side of the painting re-appear on panel 5 of 8 showing how the panels 'communicate' ... how 'connections' exist across large distances. This connection is similar to the data, that belong to dairy.
The two additional paintings #7 and #8 were painted on linen canvas in Wisconsin, US.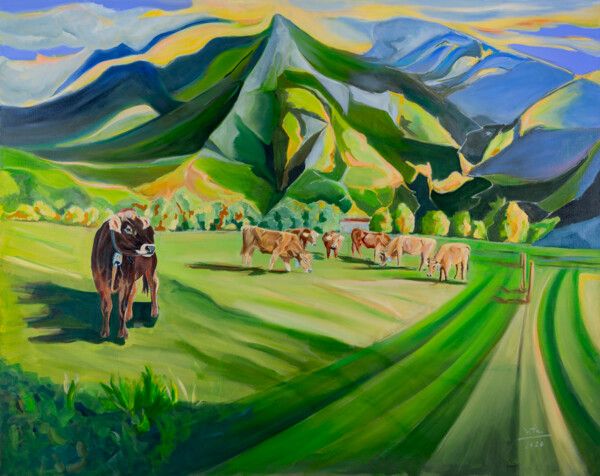 #7
'…looking back…'
'…zurueckschauen…'
Doepfer, 2020
This is a larger overview of the young heifer from BV #1 looking back at her herd mates. While we were watching this group of young cows, they passed us on their large pasture resulting in the view shown in panel BV #2. I still hear their bells ringing while the October light settled over the hills during late afternoon. We called it a 'fairy tale' landscape.
As you enter the reception room, you will find more paintings showing the cows and their surroundings.
An enchanted moment spent and captured together with these playful animals. We enjoy being together with cows. We would not harm them, but we live to make them well.
Watercolors and acrylic paints are painted on linen canvas, 1.20 m x 1.52 m.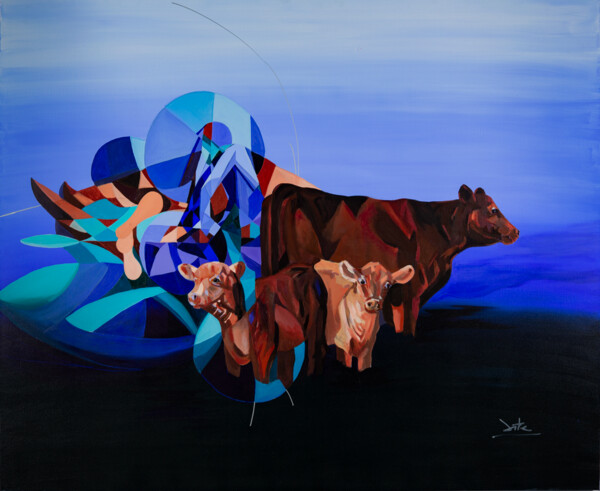 #8
'…a farming life…'
'…ein Leben auf der Farm…'
Doepfer, 2020
This Brown Angus beef cow and two calves belong to a small herd of about 100 cow-calf pairs in Northwestern Illinois, USA. This family has owned beef cattle for generations and lives for the wellbeing of their cattle. During the October 2019 afternoon when the 'Braunvieh' images for the 'may you be well' Project were taken in Schongau, Bavaria, a young couple, including Preston Cernek, DVM, and his wife, Megan, from this Illinois beef cattle operation, was visiting together with me. It was their first time outside of the US while visiting Munich and surroundings, experiencing the food, language, culture, living and giving a talk about my young colleague's research about artificial intelligence to automatically detect digital dermatitis (Mortellaro's Disease) in dairy cattle. Their visit to Germany was special on its own, but it closed a circle where Megan Cernek's great-grandfather, Delbert Boeck, had been one of the US troop members during D-Day in WWII. Her great-grandfather reached Bavaria and survived to return home by the end of the war. The photographs of the cows that served as templates for this painting were taken by Angie Steele, Megan Cernek's mother, and Delbert Boeck's granddaughter, during a late summer afternoon in Illinois. The fact that we were visiting this region of Germany together and in peace during this special October day in 2019 meant a lot to all of us. We visited several beautiful sites during that visit, but only a few things topped the afternoon spent together with the young cows pictured on panels BV #1, BV #2 and #7 during that golden October afternoon, we agreed.
It is what cow people do: we enjoy being with cows.
The left-hand side of this painting shows a 'line construct' of a human figure trying to step onto a sphere. It is clear how difficult this balancing act is, because the ball can turn at any moment and trip the human. This symbolizes how much skill it takes to make a profitable life from cattle farming, because of constraints from the land, the cattle, health and farm economics.
This is the first time that I combined my 'line constructs' (see image of the watercolor painting that served as template for the line construct from 2017 and 2005) with my 'story telling' style (see photograph that served as template for the cow painting) from a landscape and figure. I usually paint using watercolors on smaller formats of paper. This was the first time using such a large canvas and water mixable oil paints that were meant as an exercise for the 6 wooden panels of the 'may you be well' Project, particularly panels FV #1 pink and FV #2. The deep blues on this painting are my favorite colors and since this painting was originally only an exercise, I simply indulged myself with what I would do if I were to paint at this large scale. It turned out nicely.